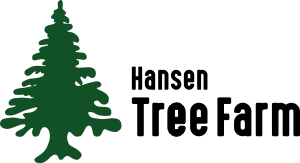 Open Nov. 18. Close Dec. 17
Fri.- Sat.- Sun. 9-5

7440 Alpine Dr,
Ramsey, MN 55303

We work hard to make our forest and farm a great experience for all ages. It holds many warm memories for four generations of the Hansen family and many of our friends and workers. Dress for the weather and we're sure you will have an enjoyable adventure. While our forest is less than a mile from the Northstar Commuter Rail depot in Ramsey, once you come through our gate you'll think you've landed in the north woods. We try to enhance that feeling in many ways; our log structures, campfire, hay rides, cars out by the fields and under big pines rather than in a congested lot, native prairie areas, and foremost the tall pines that intersperse our fields of Christmas trees and trails that connect them all.
Henry Hansen envisioned our farm-forest as a model, common in Scandinavia, of a productive forest near an urban area. The lesson is that trees are a renewable resource and we can enjoy the land, harvest from it, use it for recreation and relaxation, take care of it with intensive work, share it with deer-turkeys-pheasants-eagles-owls, and with a fair price for our product it is sustainable. There are areas of northern Europe that have been managed like this for hundreds of years. Following is our relatively short history…
In 1952 Henry Hansen, Charlotte Hansen, and her father Harry Lindquist planted their first trees on bare ground that had been tax forfeited following WWII. Henry was a forestry professor at the University of Minnesota and had seen Christmas tree 'plantations' in the eastern U.S. But in Minnesota trees were still harvested from the wild and hauled in to sell as Christmas trees. Henry and Charlotte sold the first crop and saved the money to pay for college for their two – and by 1954 three – boys. We remember our older brother Trygg who passed away in 2011, and the hard work he and his high school friends did to shear the first crop of 50,000 trees. The ones that didn't sell are the forest we enjoy now. There were no buildings here and no suburban houses They worked all summer with a transistor radio for entertainment and canteens of water for refreshment. Wow, things have changed!
1950s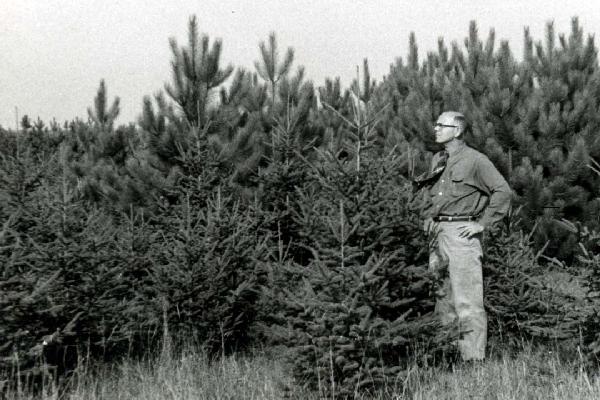 Henry Hansen in 1960 checking out the first crop of white spruce, planted in 1952.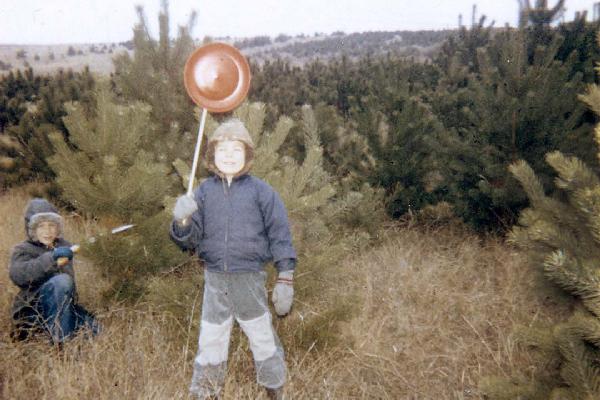 Mark Hansen goofing off and Dave ready to cut down an un-sheared Scotch pine, 1959.
1958, Henry and Scotch pine.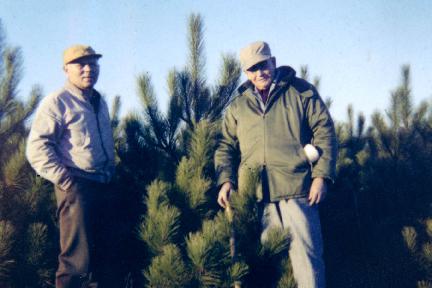 Henry Hansen and Harry Lindquist ready to harvest unsheared, four year-old red pines. The first trees sold.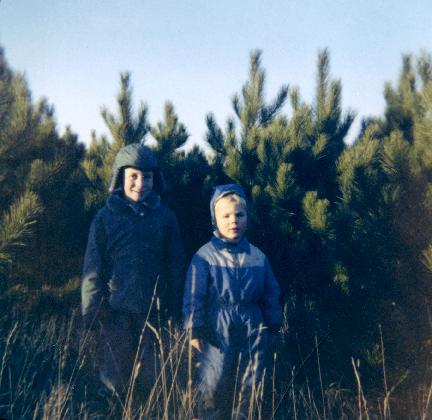 David (left) and Mark Hansen, probably 1959.
1960s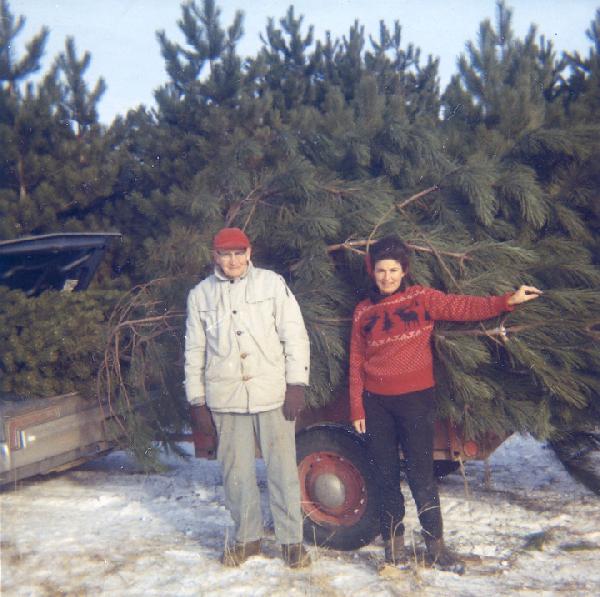 Harry Lindquist with a customer and a large red pine.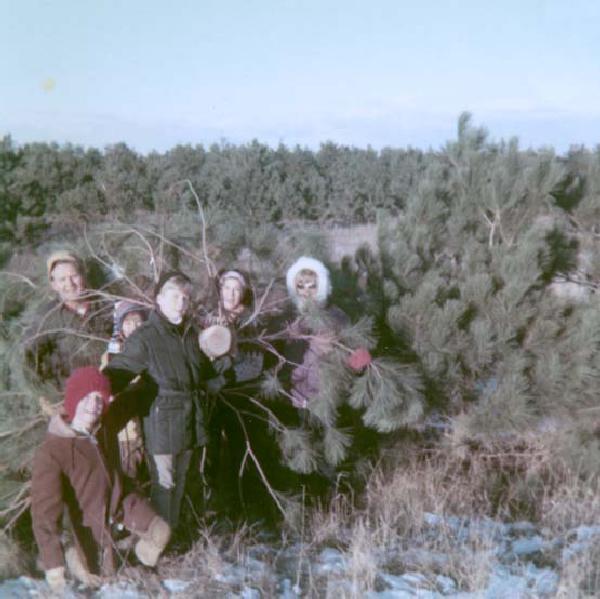 The first harvest was about over by 1970. Trees were either gone or grown too large.
The original trees were sold through florists such as Bachman's plus neighborhood tree lots in the Twin Cities. Starting in the mid-1960s some were also sold as choose-and-cut, a new concept in the region.
The farm did indeed put Trygg, David and Mark through college. During that time the family took a hiatus from the tree business, since the first crop was way too tall to be considered for Christmas trees and the family too busy. But in 1981 the "boys", now with their own families, decided to plant a new crop of trees for the next generation of college students. To make room for the seedlings, for four years they sold the now very large - 25' - trees to churches and high-ceilinged homes. Each one was loaded with the tractor and placed on large trailers. Finally, in 1989, the second generation of trees came to market and the remaining large trees are left as a forest.
1980s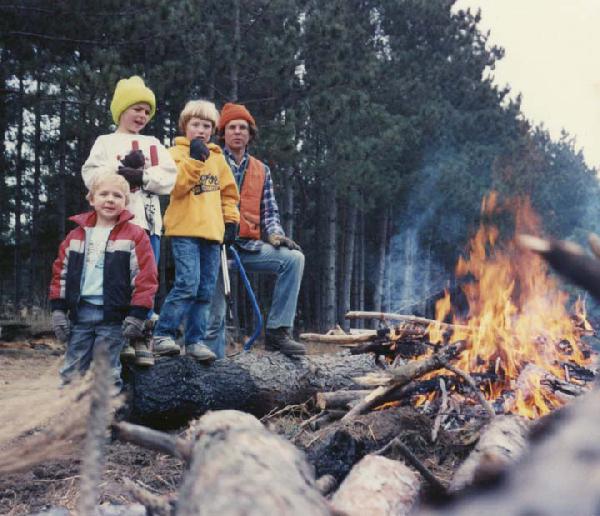 Mark and two of his boys and Dave's daughter, Britta, learning the art of burning logging slash.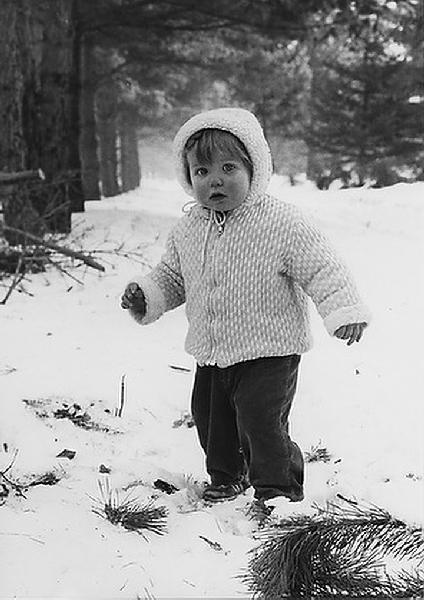 Britta learning to walk through snow and not fall, 1984.
A few years later Britta helps Kell learn to walk through the snow and not get poked in the face by pine needles.
And, reads a book to him on Christmas.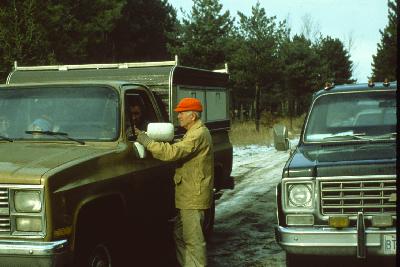 In the 1980s we sold 10'-20' spruce trees to make room for a new crop of trees. Henry directed customers while Dave and Mark did the work.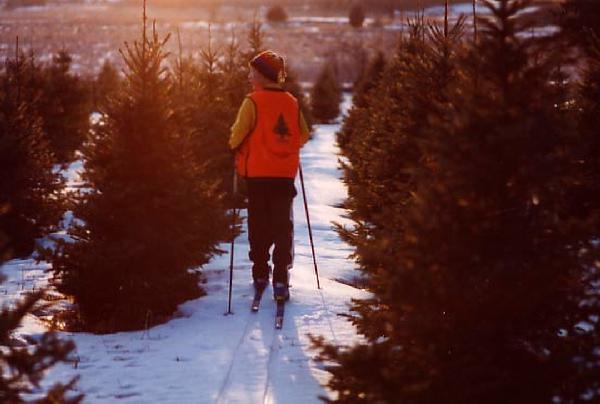 Kip, youngest of Mark's three boys.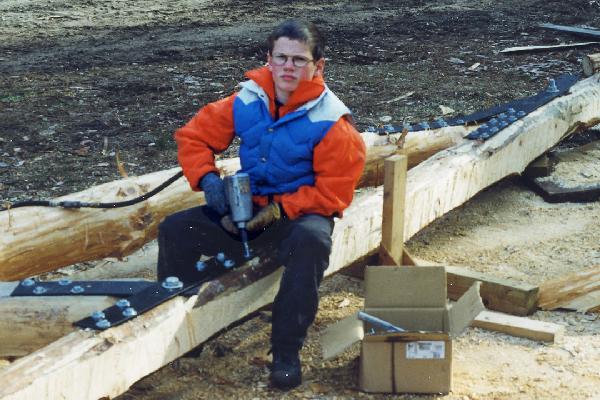 Dave's son Kell, assembling barn trusses with a pneumatic impact wrench.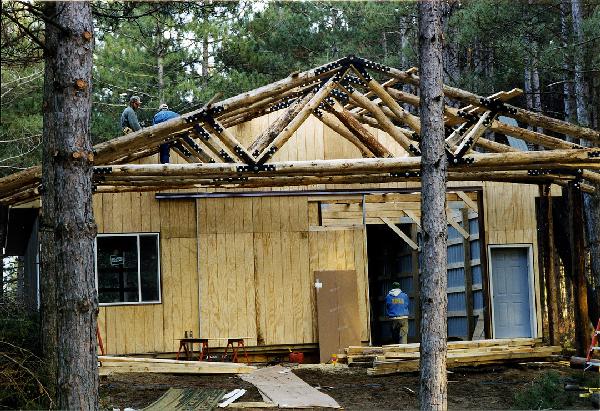 The barn went up in 1999.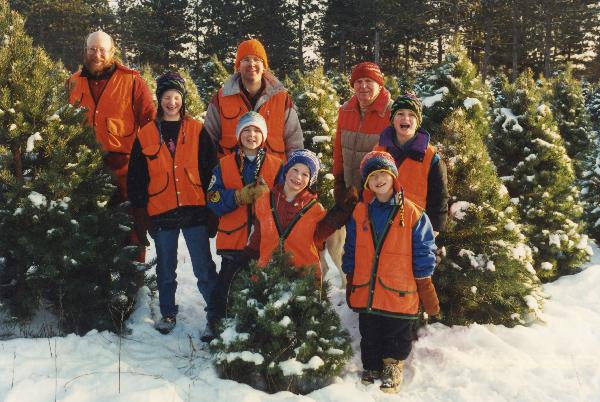 Henry with Dave & Mark and all the grandchildren in a field of the second generation of trees.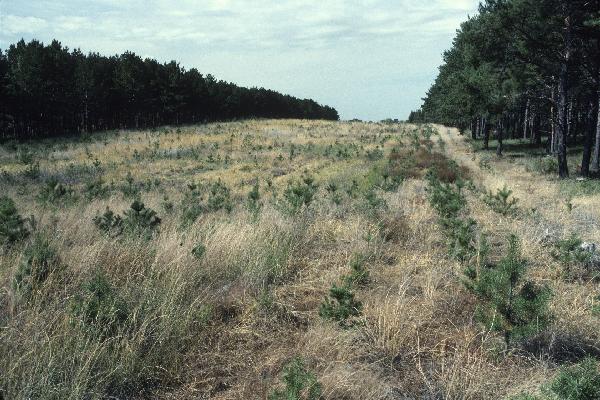 This decade we learned a lot. Some fields were over run with weeds. Some years we lost almost half our trees to drought.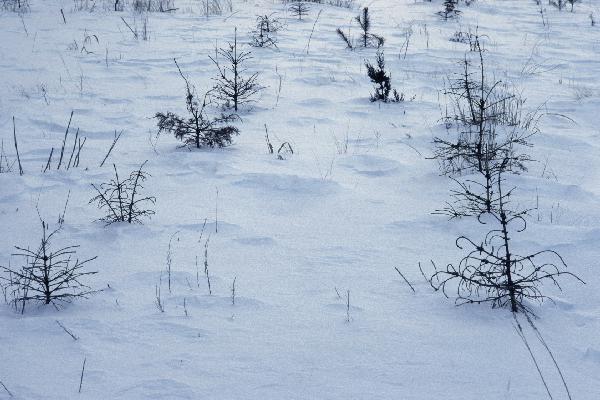 2000s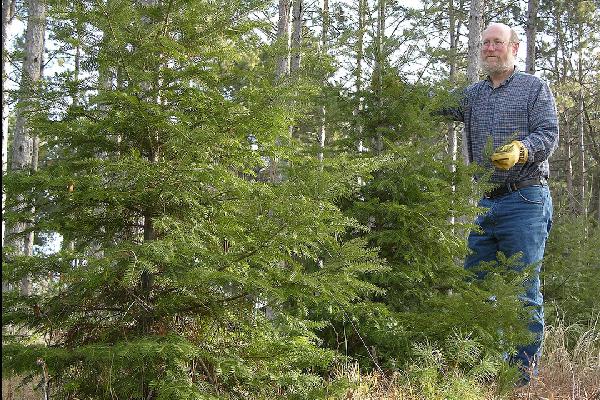 Dave has lots of ideas, like growing 'natural' balsam under the big trees.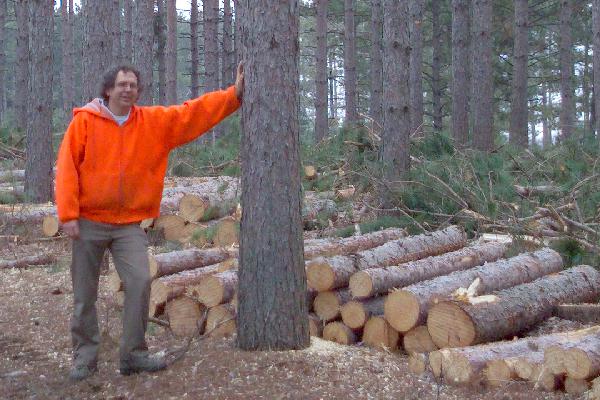 Mark does lots of work, like periodic thinning of the big trees.
Artisan Gallery and Gifts began in 2002.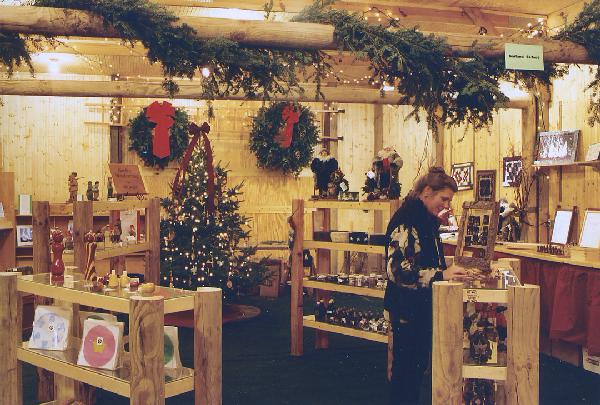 Janet, Dave & Mark's cousin, helped develop the Gallery for a decade. Now, Jeanne Hansen, Mark's son's Trygve's wife supervises with efficiency & flair.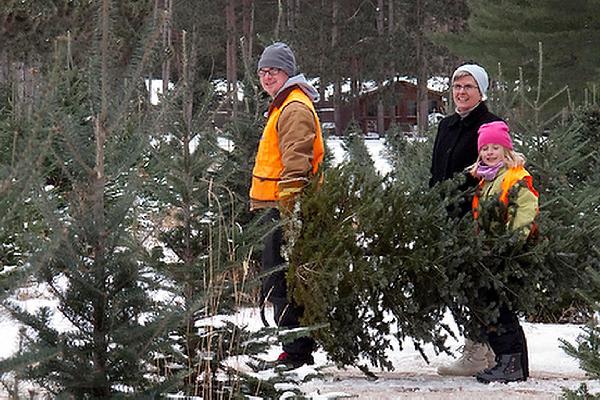 Mark's oldest, with his daughter and her elementary school teacher.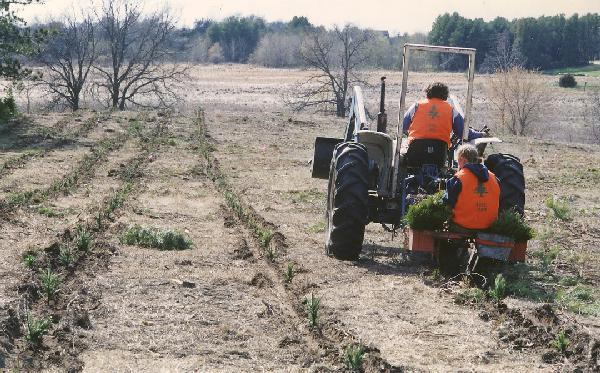 We are now harvesting from this field of balsam, planted by Mark and Britta. This is the last field planted by tractor, our drip irrigation system means all trees must be planted by shovel.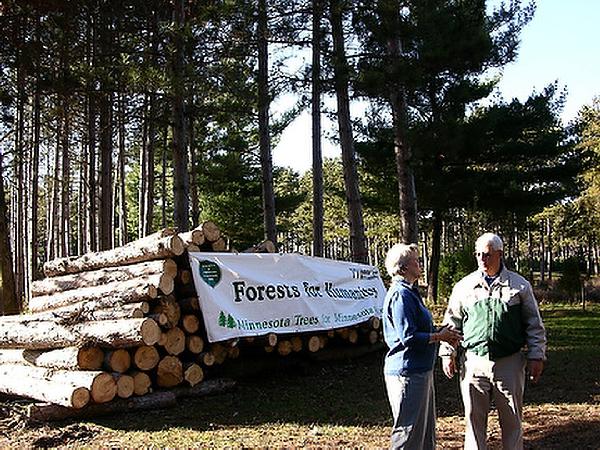 We donated logs to Forests for Humanity, which made lumber and gave to Habitat for Humanity to build homes in Elk River.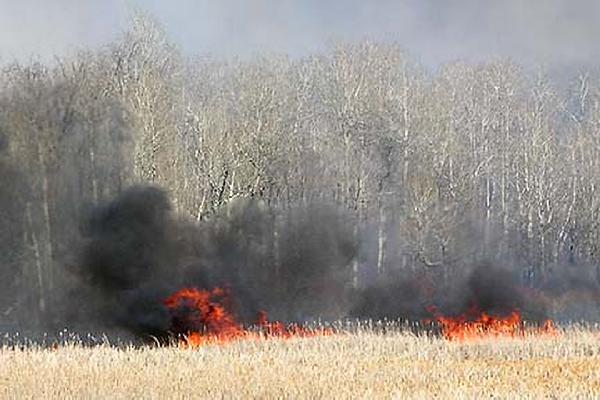 Bad things can happen as when this wildfire approached in 2005.
Ground crews, airplanes and a helicopter stopped the fire, caused by a careless backyard trash fire.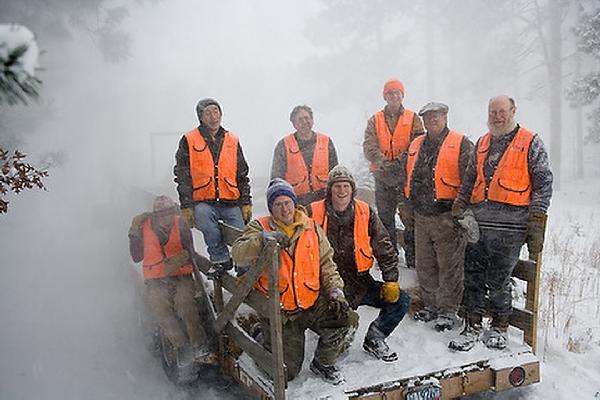 A perfectly composed Christmas card turns ugly when a tree dumps its snow on Britta.
2010s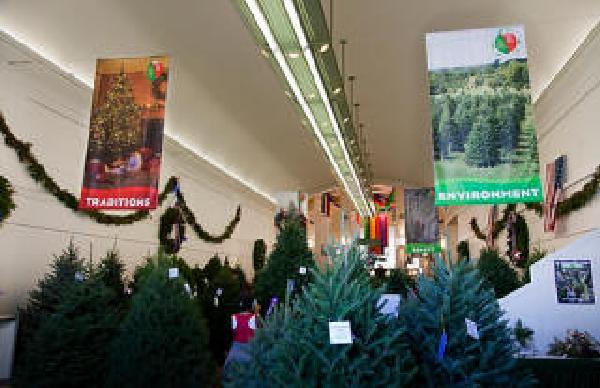 You may have noticed our award winning trees and wreaths at the Minnesota State Fair. But did you know the large overhead banners are from photos taken by Dave Hansen? His full time job is a photographer and most of the photos in the Ag-Hort building are Dave's creations, from Honeycrisp apples to the newest variety of wheat.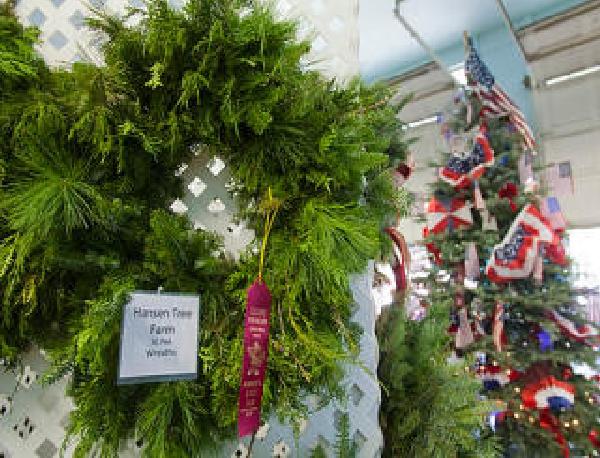 Mark makes all of our beautiful, award winning, wreathes. He is also on the board of the Minnesota Christmas Tree Association.
Kip re-stocks wreathes after a busy day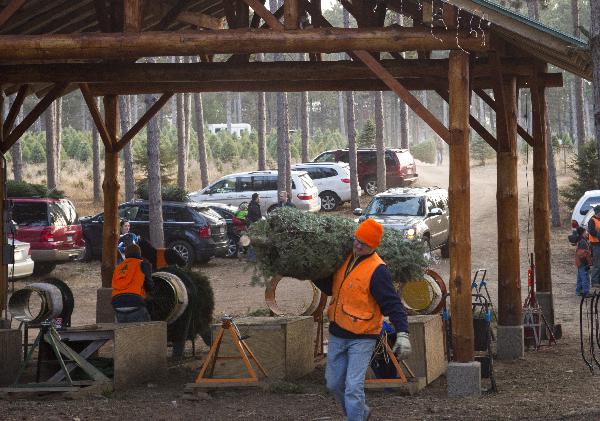 Tryg hefts a tree from baler to a customer's vehicle.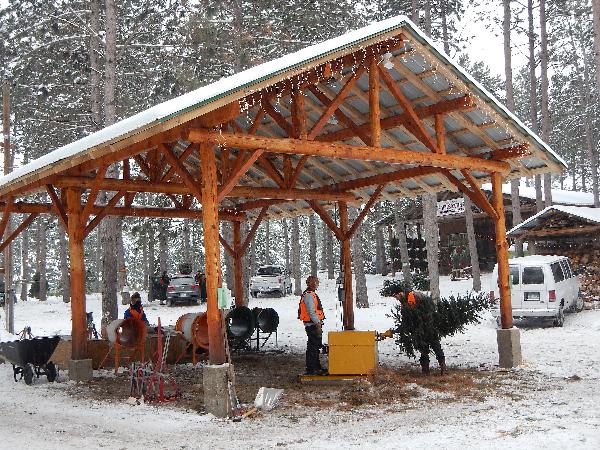 The shelter for processing your tree went up in 2013. In wet weather the workers really appreciate it.
Another of Mark's log structures, an Adirondack shelter, nears completion in 2014.
While the trees are a joy to watch grow up, it is second to the satisfaction of seeing people of all ages visit our farm each year. We like to share the beauty of our work. And we enjoy hearing your stories, your Christmas memories as a child and now coming with your own family or friends.