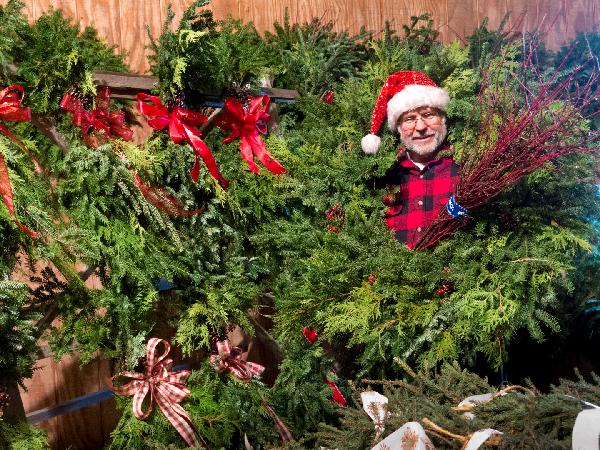 Mark Hansen
is our experienced greenery expert, having made thousands of wreaths and also swags, arches, garland and arrangements. Every year his wreaths place high at the Minnesota State Fair. To begin the season he cuts and hauls about 8 tons of balsam boughs in early November, from forests further north. Stop to watch him at work in the gift shop. If you'd like a tailor made wreath or other arrangement, talk with Mark. He'll help you pick from our selection of over 50 festive ribbons. Then choose the greenery: balsam fir, white cedar, white pine or a combination. And finally decide on an accent or two: red twigged dogwood, red berries, or several varieties and sizes of native pine cones picked from our forest.
To save time make your selection before you go look for a tree and it will be ready when you check out. Or, stop by on Fridays when it is less busy. We also have inexpensive stands available if you wish to display a wreath at a cemetery or in your own yard in memory of a loved one.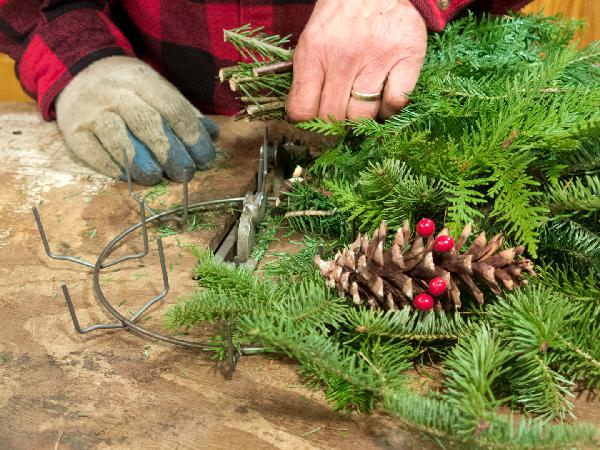 Wreaths
made by Mark range in size from 20 inches to over 4 feet in diameter and weighing about 50 pounds! The cones are picked from our forest. The size indicates the approximate, or average, outside diameter. There will always be longer pieces sticking out so they appear even larger. Longer stems can always be trimmed.
-Small, 20"
-Medium, 26"
-Large, 36"
-Jumbo, 48"
-Super Jumbo, 60"
(by special request, day ahead)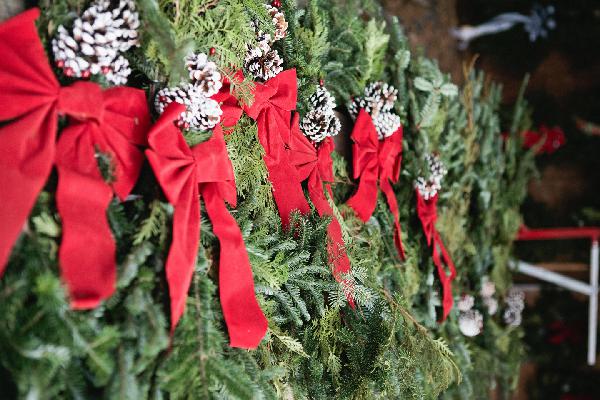 Other
greenery and accessories:
-Garland
-Swags
-Arches
-Bundles of spruce and balsam tops, red dogwood, willow, and princess pine
- Individual, larger balsam or spruce tops
-Tree stands, "spike" and traditional
-Wreath stands (for on the ground)
-Commercial orders welcome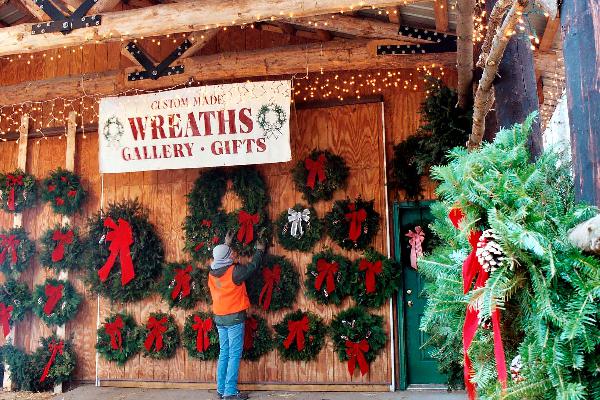 We always have free boughs available in our bough shed. If you'd like some for a mantle piece or to make your own arrangement just help yourself. The bough shed is located near the shelter where we shake and bale your tree. Feel free to take a few as we're loading your tree onto your vehicle. If you wish more than an armload please ask one of us for a price.
Mark Hansen relaxes at the end of the season. He makes hundreds of wreaths as well as our log structures like this Adirondack shelter. Mark does commercial orders too and can deliver them to your business.