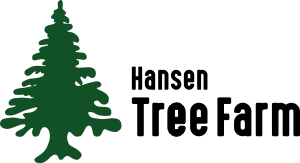 Open Nov. 18. Close Dec. 17
Fri.- Sat.- Sun. 9-5

7440 Alpine Dr,
Ramsey, MN 55303

Our tree farm is more than just a place to get a Christmas Tree. We hope you'll take the time to walk through our mature pine forest, planted by Henry Hansen and his wife Charlotte, and her father Harry Lindquist. The first trees were planted on an abandoned corn field in 1952. On what was once a sand dune, you can now walk under 50 foot red pines or cross country ski up and down the hills.
Families, including well behaved dogs, enjoy our farm and forest no matter what the weather brings. Since there may be other dogs around, please be prepared with a leash.
Active children can play in our fields, forest or kid's log cabin while they wait for the wagon to come in from its previous ride.
And, every day we have a campfire going, with hay bales and logs to sit on. Plus, bring the cocoa or cider and Christmas sausage we provide and sit around the fire. Its a memory that will bring you back next year.
Feel free to bring a picnic lunch, especially if it is a warm day and you'd like to spend more time in the woods, we have picnic tables under our big pines. Who knows, you might meet a new friend.